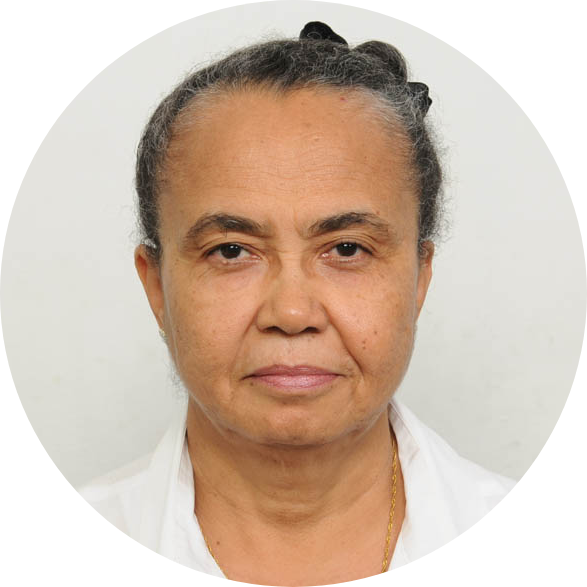 Matron
Professor Hannah Faal
Adjunct Professor Hannah Bassey Faal is a strong advocate of indigenous capacity development through sustainable ventures. She has a demonstrable record of institutionalization of human resource development program in eye health. — characterized as
a credible leader who can influence others.
Adjunct Professor H. B Faal has a proven track record of serving at global level leadership in health and research and the rare ability to combine academia with programme operations — effective in merging the rigour of academia with the practicality required for programme interventions. She is recognized for innovations in health approaches and integrating health initiatives. Below are some offices held and the dates.
Pioneered the expansion of a concept from individual clinical care in ophthalmology to a population based comprehensive integrated eye health service approach for a population unit of one million as a replicable demonstration model in a sub Saharan African country, The Gambia from 1986 -1996.
Served as Technical Advisor and Short-Term Consultant for WHO on various assignments on primary health care, strategic planning and situation analyses.
Served as Senior Vice President and President of the International Agency for the Prevention of Blindness.
Was a member of the International Council of Ophthalmology Board and the International Trachoma Initiative Expert Committee.
A member of the WHO Monitoring Committee for VISION 2020.
WHO Advisory Panel for Trachoma and advisor to the WHO Prevention of Blindness Programme and currently Chair of the African Vision Research Institute at University of Kwazulu Natal.
Chair of Community health workers group of the IAPB Africa Human resources for Eye health Team, member of Advisory Board, Our Children's Vision, Queen Elisabeth Diamond Jubilee Trust, Trustee with Vision Aid Overseas, Moorfields Korle Bu Trust etc .
Currently working with various groups eg Vision 2020 links programme on developing global networks for Diabetic retinopathy, child eye health, glaucoma.
Senior Advisor at Sightsavers, UK (an international organization with a development focus) Led the development of a new health systems strengthening strategy and its operationalization for Sightsavers as part of its new organizational strategy 2009-2013. Instrumental in studying and introducing a community development perspective to eye health for the organization.
Part-time Consultant on Health Systems, eye health programmes to International Agency for Prevention of Blindness Africa, eye health NGOs, University of Calabar Teaching Hospital etc.
Adjunct Professor-International Eye Health, 2013 to date. 
Professor H. B Faal facilitated transition of an organizational programme in 34 countries from an eye care to a health
systems strengthening and scalability approach and development of local in country capacity and expertise for eye health programmes.