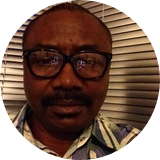 Dr Dienye Iyalla Apiafi, A 64yrs old Ophthalmic Surgeon with Fellowship since 1993.
Subspecialized in Pediatric Ophthalmology in 1996 from Aravind Eye Institute, Madurai, Tamil Nadu, India.
He worked in National Eye Centre until 2005 before voluntary retirement.
Presently with Rivers State government employment on contract. Runs a private Eye Hospital in Port Harcourt.